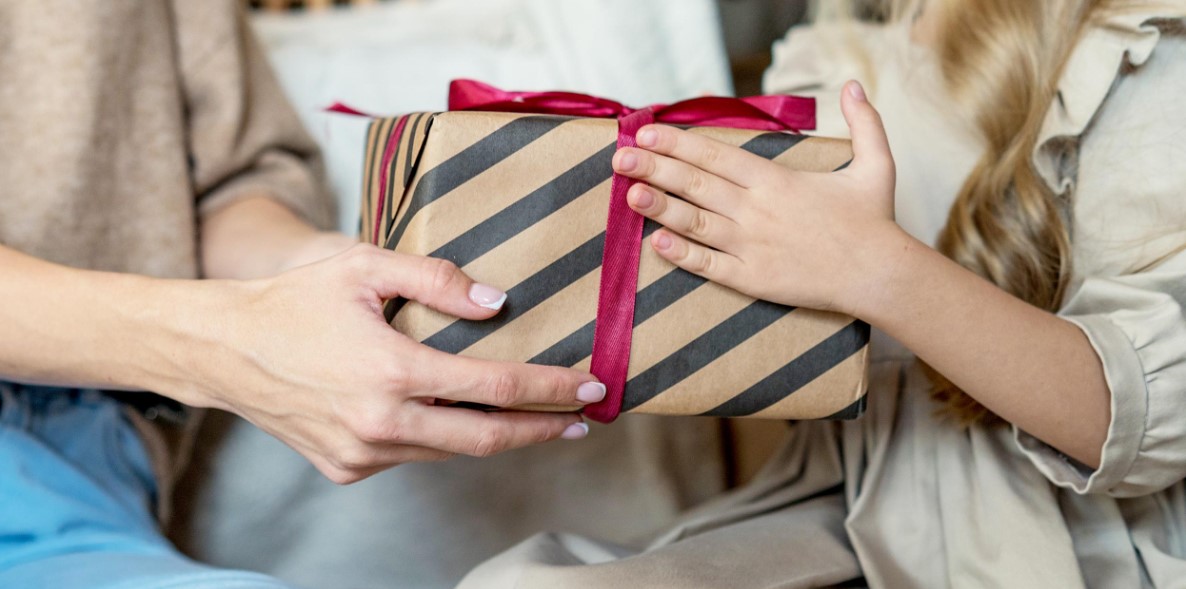 As a parent, when looking for a present for your kids, it's important to consider their interests, needs, and development stage. Is the gift age appropriate? Look for proper toys and gifts for your child's age, developmental stage, and skill level. Choose toys and games to help your child develop important skills, such as problem-solving, creativity, and fine motor skills. Also, consider your child's hobbies and interests, and select gifts that align with these.
Here are some gift ideas for kids:
Craft kits: Encourage creativity with a craft kit like knitting, sewing, or painting.Board games: Choose educational games that challenge and stimulate the mind.

Science kits: Encourage a love of science and learning with a chemistry or biology set.

Sports equipment: Encourage a love of physical activity with a new soccer ball, basketball, or skateboard.

Building sets: Encourage problem-solving skills and creativity with a building set like LEGO or K'NEX.

Musical instruments: Encourage a love of music with a new instrument like a keyboard or guitar.

Books: Encourage a love of reading with books appropriate for their age and interests.

Technology: Choose age-appropriate technology like a tablet or computer to help with learning and creativity.

Outdoor play equipment: Encourage outdoor play and physical activity with a new trampoline, swingset, or scooter.
Ways to choose the right gifts for your kids
Do not buy expensive presents
While it's tempting to buy expensive presents for your kids, it's important to remember that the most valuable gifts are often those that create memories and special experiences. Here are a few ways to make the most of your budget:
Look for deals and discounts: Keep an eye out for sales and special offers to help you get the most for your money.

Prioritize quality: Instead of buying many low-quality gifts, choose a few high-quality gifts your kids will enjoy for a longer period.

Focus on experiences: Consider gifting a fun day trip, a new experience, or a special outing together instead of a material object.
Remember, the most important thing is the love and attention you give, not the cost of the gift.
Do not overbuy
When purchasing gifts for your children, it is critical to avoid overbuying to avoid clutter, promote gratitude, and maintain a healthy relationship with material possessions. Overspending can foster feelings of entitlement and a lack of appreciation for what your child already has. Choose a few high-quality gifts that your child will enjoy and appreciate instead.
It is also necessary to consider the effects of excessive consumption on the environment and the world. Purchasing fewer gifts reduces waste and conserves resources. You can help your child develop a healthy relationship with material possessions and appreciate what they have by focusing on experiences and making memories together.
Age appropriate toys
When selecting toys for your children, keep their age and developmental stage in mind. Age-appropriate toys are essential for helping your child learn, grow, and stay safe. Toys for younger children should be simple and allow them to use their imagination. Older children may be ready for more complex toys that test their problem-solving and creative abilities. Furthermore, you should always consider a toy's recommended age range and any safety warnings or cautions to ensure that the toy is appropriate for your child.
Conclusion
In conclusion, selecting the right gifts for your children necessitates careful consideration. Consider practicality, personalize your gifts, avoid overbuying expensive gifts, and choose age-appropriate toys.
Related Posts